Head of Business Development for HowUdish
What if there was an app that could find dishes at restaurants nationwide based on your location and dietary needs? An app that is your dietary guide when traveling for work or vacation? An app that allows a group of friends with varying dietary needs to find a restaurant that works for everyone? Fortunately, there is and it's called HowUdish!
Meet Jillian Hastings, the Head of Business Development for HowUdish. She previously studied at Fordham University and received her B.S. in Business Administration. Before entering the tech world, Jillian started her career in New York City's fashion industry as the receptionist at Kate Spade. Holding different positions in between she eventually moved on to focusing the bulk of her career on managing sourcing and manufacturing for costume jewelry. After 9 years in fashion, she decided to take on the world of apps. She is currently focusing on building relationships at restaurants featured on the app and managing all of the PR and social media initiatives. She spends most of her time working and networking out of a woman's only social club in New York City called The Wing.
"Today's consumers are increasingly concerned with making healthy eating decisions, and with high-calorie menu items tempting us at every corner, it can be extremely difficult to eat healthy when traveling," says Jillian Hastings, Head of Business Development for HowUdish. "The biggest problem people face when making food decisions on-the-go is knowing the right dishes to have and where to have them. We are thrilled to be able empower people and help them make better eating decisions on the go in way that is fun and engaging."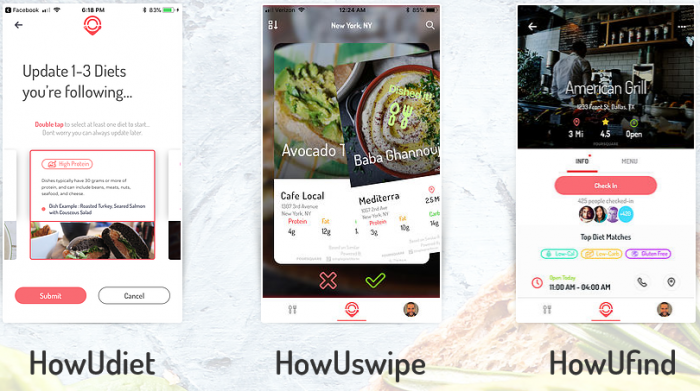 The app was created when the founder (who chooses to remain anonymous at this time) was traveling quite frequently for work and had a hard time sticking to his diet needs. He thought, "I need to make this foolproof. Users should be able to select their diets and have dishes that are fit for them show up on the screen to help prevent them from making poor food choices." And that's exactly how HowUdish works.
Users can select up to 3 diets based from the following: low calorie, gluten free, vegan, vegetarian, low carb, high protein, balanced, high fiber, and low fat. They are then presented with a screen that allows them to swipe right for dishes they like or left for those they do not. From there you can save dishes to have access to them more often. If you click on the dish the nutritional information will show up. There's also a premium version of the app that gives you access to unlimited swipes, unlimited saves, the ability to change you location to plan ahead for when you're traveling, recipes that match back to your favorite dishes on nights that you want to cook at home, a cheat mode that that shows you the least worst options, and an oops! button to see a dish that you accidentally swiped left on.
What's next for HowUdish? The app is getting ready to launch a social networking platform that users can access to find other users on similar diets, as well as the ability to start support groups or recommend restaurants/dishes. The premium version of this feature will allow users to reach out to the community if they want a companion while dining out to date, network, etc.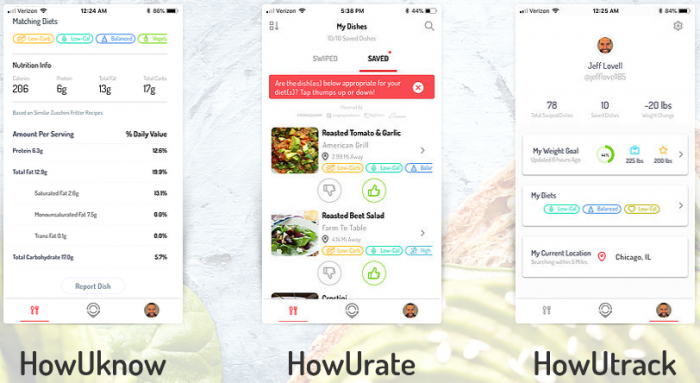 "We are really excited about the social networking feature," says Jillian Hastings. "There has yet to be an app that allows users to come together over food or dietary needs and I'm curious to see how our community will use this."
They are also in the process of adding more restaurants in highly populated metropolitan cities starting with New York. "Our current database was the platform for us to get started. We're now combing through restaurants making sure they have been open for a few years, are highly rated, etc. We're really thrilled to be able to give additional restaurants to our users," says Jillian Hastings. HowUdish hopes to complete this initiative by end of February 2018 and has plans to expand to other cities over the upcoming months.
Premium is currently $4.99/month or $49.99/year. HowUdish is available on the Apple App Store and hopes to be available on Android soon.
Here's how you can connect with HowUdish:
Facebook: https://www.facebook.com/HowUdish/
Instagram: www.instagram.com/howudish
Twitter: www.twitter.com/howudish
Jillian Hastings on LinkedIn
Hundreds of Business Opportunities – Visit the Home Business EXPO
The post Jillian Hastings: From Fashion to the World of Food and Tech appeared first on Home Business Magazine.
Source: Home Business
Republished by Blog Post Promoter