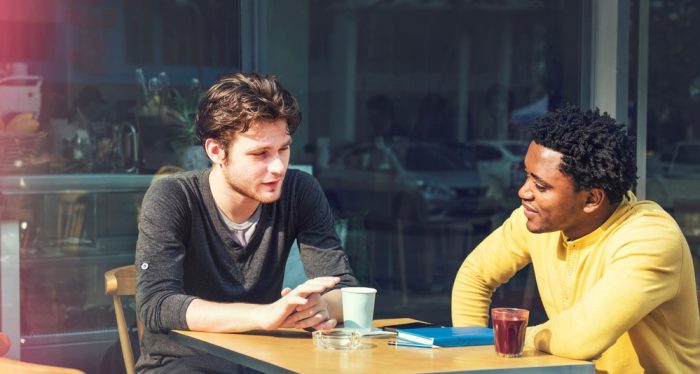 One of the advantages of starting a home business is not having to leave the house; you'll save on gas money and travel time, and in most cases, you can set your own schedule to work when it's most convenient for your life.
Thanks to the advent of modern technology, it's possible to communicate with your team, your partners, and your potential clients through multiple outlets, including phone calls, emails, instant messages, and even video chats.
But even with all this sophisticated technology and the productive luxuries of working from home, it's still important to have at least some face-to-face meetings in your home business.
The Advantages of Face-to-Face Meetings
Let's start by looking at the biggest advantages of face-to-face meetings, over any other means of communication:
Making an impression. Meeting someone in real life gives you a chance to make an instant impression with them. The way you dress, the way you hold yourself, and even the way you speak will give people a much clearer picture of who you are than a series of flat written messages. If you add in some extra flair, like driving a fancy car or wearing nice clothes, you might make an even better impression on a potential client. Even flying in on a private jet is inexpensive these days—and it might be worth the investment.
Establishing professional communication. Meeting in person also gives you a chance to set the tone for your professional relationship—with an actual tone of voice. People have different communication styles based on the medium they're using, but if you start with an informal, in-person conversation, you'll get to see each other at your most natural. From there, it will be easy to transition to different mediums.
Expressing body language. An oft-cited psychological study purports that 55 percent of communication is body language, 38 percent is tone, and 7 percent is the actual words spoken; there's some evidence to contradict this, but there's no questioning that body language and tone are important for communication, and only in-person interactions give you the full scope of those dimensions. Accordingly, face-to-face conversations often end up more productive than other mediums.
Bonding and personal interaction. Don't forget, there's an element of bonding and personal interaction, which goes beyond professional communications, to influence the success of your partnerships. Meeting in person allows you to get to know someone on a deeper, more personal level, and have fun with them before getting down to business. You can carry a casual conversation via email or text message as well, but no medium allows you to bond the same way face-to-face interactions do.
Being more relatable. Once you've met in person, people will walk away with a clearer picture of who you are and how you operate. This makes you more relatable, and adds more context to your other forms of communication.
Making the Most of Your Meetings
If you're looking to make the most of your in-person meetings, these tips should help you improve your efficiency and execution:
Start on the right foot. Start things on the right foot by leading with an in-person meeting, rather than waiting until you're several months into a professional relationship. The sooner you get to know each other in person, the better.
Don't keep it exclusively professional. When meeting, shop talk and professional interactions are important, but make sure you spend some time interacting on a personal level. Talk about yourselves, and do an activity together.
Make a list of priorities, and achieve them. Make sure you go into the meeting with a list of key objectives. Are you just trying to get to know someone? Are there specific issues you're trying to hammer out? On some level, your meeting should be loose and casual, but you also don't want to waste this opportunity.
Accomplish multiple goals when traveling. If you're traveling more than an hour to meet someone in person, make the most of your time; meet with other people along the way, or spend some time in your destination city.
Incorporating more face-to-face meetings may seem contradictory to one of remote working's biggest advantages, but it's actually going to enrich your business, and the relationships you hold within it. You don't have to meet constantly, or with everyone in your network, but even occasional exposure can help you build a better enterprise.
The post Why You Still Need to Meet Face-to-Face in a Home Business appeared first on Home Business Magazine.
Source: Home Business
Originally posted 2018-01-29 05:39:11. Republished by Blog Post Promoter