The biggest factor which affects your quality of sleep is your mattress. You can choose among so many different kinds of mattresses nowadays, pretty much like how you can choose from a wide array of ice-cream flavors. The difference is that not all types will offer the same level of comfort and support. Depending on the kind of material used, you will pay more or less for a multi-layered mattress or one with a more simple structure. Remember that it's what lays on the inside that matters.
Be considerate about the type of mattress you choose, as this will determine how long your mattress lasts, as well as the kind of comfort and support you get. A good night's sleep means a more productive workday and the continued success of your business.
Types of mattresses
The science of creating mattresses has been benefited by technology a lot. In recent years, we have witnessed the rise of many different types of materials used and combined for the creation of the perfect mattress.
While there is no such thing as the one mattress that will be suitable for all, it is widely thought that some mattress types have more to offer than others, thanks to their particular attributes. Of course, it all comes down to personal preference really. However, let's take a look at this guide that features some of the most common types of mattresses available in the market, including their pros and cons as found following extensive research.
*Foam mattresses
When it comes to foam mattresses, the most typical type used to be poly-foam, or polyurethane foam as its full name is. This type of material can be found usually on the top or bottom layer of spring mattresses, however, it is not entirely unusual to see it used alone for mattresses.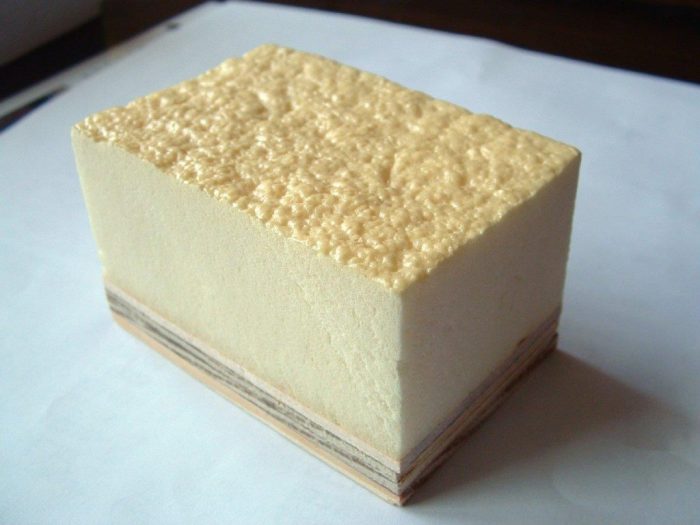 Poly-foam is a synthetic material and feels quite bouncy compared to memory foam. There is no natural polyurethane foam, unlike the case with latex foam.
Whereas you will find that polyurethane is relatively cheap, this depends on its density. High resilience polyurethane is much more comfortable, almost as much as latex foam. Still, it is very expensive and not easy to find.
*Memory foam mattresses
Memory foam is a material that was introduced in the 1960s and consists of a viscoelastic foam, while it also includes polyurethane. It is the sort of mouldable material which can relieve pressure points and conform to the body's natural curves perfectly. In addition, memory foam has hypoallergenic properties and therefore makes a good match if you suffer from allergies.
The special feel of a memory foam may not appeal to everyone, nor the sinking down in the mattress feel, which relates to some heat retention.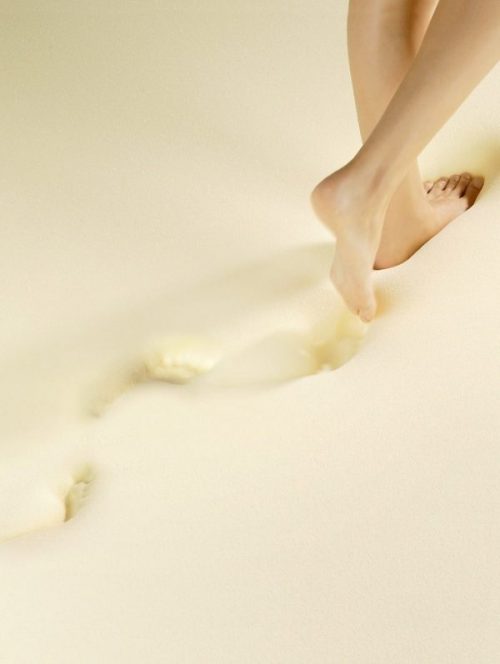 However, it makes the perfect choice if you suffer from chronic back pain, as it will substantially support your spine.
Memory foam mattresses usually consist of top layers of polyurethane foam, followed by memory foam and supportive foam in the bottom layer.
Note that a common complaint with memory foam is how it shows signs of slight off-gassing when unpacked, so you better let the mattress air when unboxed.
*Gel-infused mattresses
A more recent addition to the memory foam family, gel memory foam, is used as part of the layers of a memory foam mattress usually and is highly revered for its cooling properties and minimal to no off-gassing. This breathable material is actually considered as a phase changing material (PCM), which means it regulates temperature and doesn't allow any heat to be trapped in the mattress.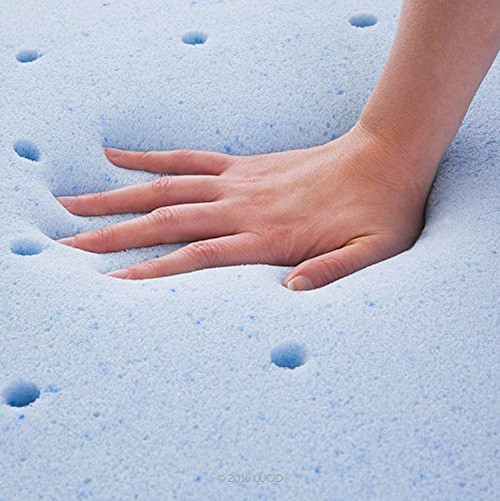 Similar to memory foam, it does an excellent job with pressure relief and contours perfectly to the body's natural curves. It is even thought to perform better overall and is preferred more and more among manufacturers, thanks to its premium attributes.
Nectar mattress includes 2 layers of gel memory foam. The top layers consist of a 1" quilted gel foam for a thicker and softer layer, which is also quite breathable. The second layer features a 1" semi-open lush foam, infused with gel and a semi-open cell technology for enhanced breathability. Both, together with the hi-core memory foam and premium dense bottom foam layer, make for a sturdy and comfortable mattress, with excellent contouring effect while minimizing sinking.
What is more, gel memory foam is hypoallergenic.
*Plant-based mattresses
Apart from gel memory foam, there is also a plant-based version of memory foam which is quite breathable as it features a larger cell structure and is safer for people and the environment as it emits significantly less VOCs.
All types of memory foam will cost due to the premium features they include, however you can find top quality memory foam mattresses at exceptional prices, like Nectar mattress for instance.
*Latex mattresses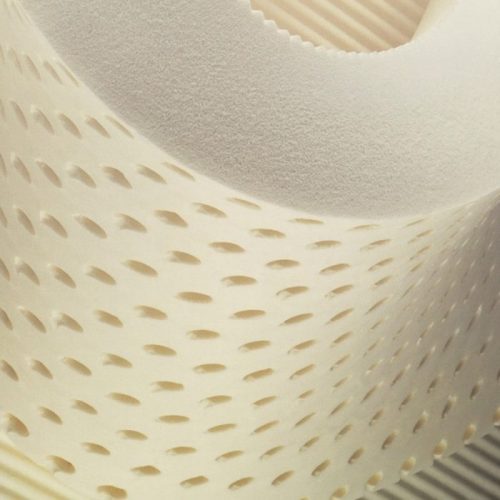 Latex mattresses usually include latex foam as their support system, or for the top layers or both. Latex can be natural or synthetic, or even blended. Any type of latex is quite breathable and makes a good choice if you are prone to allergies or suffer from asthma since it is naturally hypoallergenic.
The initial feel when you lay down on a latex foam mattress is that it feels quite firm, so it best suits people who enjoy a firmer bed. This material is quite durable and you should expect that it will last for many years.
On the downsides, latex mattresses are quite hefty and when bought at lower prices, they may develop lumps and dents after systematic use.
*Innerspring mattresses
This is probably the oldest type of mattress and the most known. While people used to rely on spring mattresses in the vast majority since they are quite affordable, over time with the infusion of more materials used for manufacturing mattresses, they lost some of their popularity.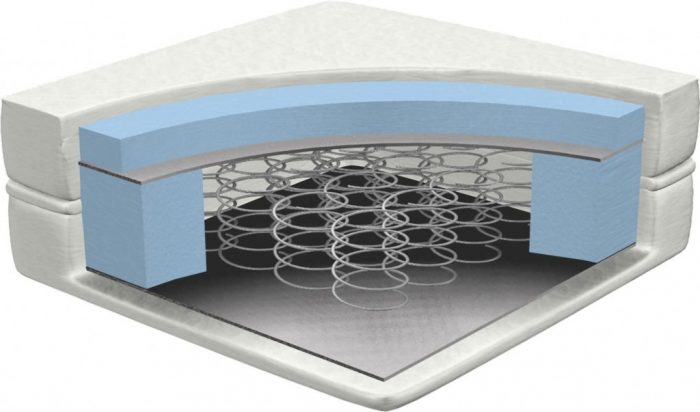 As their name implies, they involve the use of a steel coil support system and come with different types of coil patterns and shapes, coil gauge, and numbers of coils. Usually on top of the springs lays a layer of padding or upholstery materials, including different kinds of foams and fiber.
The greater the coil number, the better the support and the body contour and comfort experienced. Anything more than 400 coils in number will feel really good.
Below are some types of innerspring patterns, including encased or pocketed coils, which are thought to be the best as they enable independent movement of each spring, which means you get more support and even weight distribution across the whole mattress surface. Open coil or continuous coil mattresses are great value for money and allow little to no motion transfer, however they are less supportive.

Still, innerspring mattresses in general lack in terms of back support, body contouring and pressure relief. In addition, they tend to get saggy quickly over time and are not as durable as other mattresses like memory foam and latex, while they are not hypoallergenic.
*Hybrid mattresses
These types of mattresses most commonly combine coils with some sort of specialty foams, like memory foam and/or polyurethane, gel and more. They are considered a valid choice as they usually blend the best of each world, meaning you can benefit from the innerspring which sleeps cool, and still get plenty of body contouring and pressure relief thanks to the top and comfort layers made with premium foams.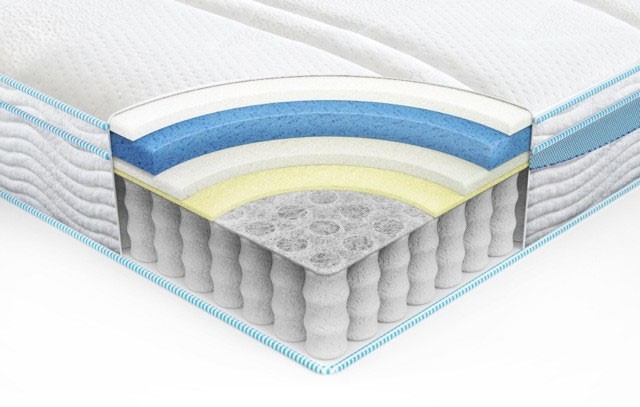 Which is the best mattress type for you?
In case you can't make up your mind on which materials best meets your needs, here is a brief overview of what each mattress type has to offer, and where it lacks.
Conclusion
Different mattresses come with different types of materials. Unless you are involved in the manufacturing process of a mattress, it is rather difficult to know exactly how you can benefit from each materials used.
And the thing is that each material comes with its own unique benefits and downsides, which you must weight in before you decide which mattress appeals to you the most.
For instance, when we refer to pressure relief, memory foam is definitely a winner. Whether we are talking about traditional memory foam, gel-infused memory foam or plant-based, all variation s offer exceptional relief of sensitive body parts and conform ideally to your curves and edges.
Memory foam also keeps your spine in a neutral position, and so it makes the perfect solution for people who suffer from back pain. What is more, memory foam is naturally hypoallergenic and shows minimal motion transfer, so it is great for couples.
Similar to memory foam, latex is naturally hypoallergenic, it is extremely durable and sleeps quite cool, so it is ideal if you tend to sleep hot. You can also try gel memory foam like the one found in Nectar mattress, which regulates temperature for a breathable mattress surface. Latex on the other hand is much more bouncy and has faster response times, so it is better for intimate activities while it is very supportive.
Spring and polyurethane foam mattresses are the cheapest of the bunch, however they don't stand out, as spring coils are prone to allergies and lack as far as support and comfort, whereas polyfoam is not as durable and shows motion transfer and sleeps hot, while it is also not as comfortable and supportive as latex and memory foam.
Ultimately, choosing the right type of mattress depends on a number of factors and you should be prudent to consider both pros and cons of each material before you make up your mind.
The post Sleeping Well Improves Productivity: What Are Mattresses Made Of? appeared first on Home Business Magazine.
Source: Home Business


Source: Bricktowntom

Republished by Blog Post Promoter