Getting a new floor is a great way to restore a room and bring new life to your home. Today, there are more options for flooring than ever. Whether you're ripping out old, ugly carpet, replacing a worn-out tile floor, or interested in overhauling your basement and replacing a concrete floor, you have plenty of different options to choose from.
In this article, we'll discuss a few common types of flooring, and their advantages and disadvantages, as well as the areas of your home they are most suitable for. Let's get started.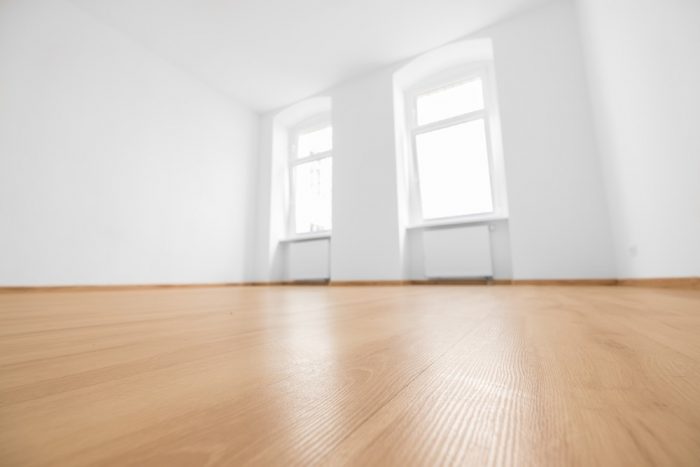 1. Solid Hardwood
Solid hardwood is very expensive, but one of the most durable and long-lasting flooring materials. With proper care, hardwood can easily last decades and can be regularly refinished and restored to maintain a brand-new appearance.
Pros
Durable and long-lasting
Highly desirable for homeowners
Durable and resistant to wear
Requires little maintenance
Easy to refinish
Cons
Expensive
Can shrink with age, creating gaps
Not water-resistant, susceptible to moisture damage
2. Engineered Hardwood
Engineered hardwood uses multiple layers of wood to create a durable, strong flooring material with many of the attributes of hardwood flooring at a lower cost.
Pros
Lower cost than hardwood flooring
More resistant to temperature and moisture fluctuations, compared to hardwood
Fiberboard construction makes them more "quiet" underfoot
Individual boards can easily be replaced, if necessary
Cons
Quality can vary significantly based on manufacturer/supplier
Thin veneer of wood may make it impossible to properly sand or refinish
Some people may have negative reactions to the adhesive used in the binding process
3. Laminate Flooring
Laminate flooring is a popular, low-cost alternative to hardwood. It is composed of pressed wood fibers with a laminate veneer. This veneer is typically designed to mimic the appearance of wood, tile, or natural stone, providing a more natural appearance.
Pros
Available in a huge variety of styles and colors
Resists scratches and dents effectively
Much less expensive than hardwood
Natural appearance
"Floating Floor" design makes it easy to install
Cons
Can be warped by heat and moisture
Cannot be refinished by sanding and buffing
Repairs often require removal of large sections of flooring
Lower-grade products do not look very "woodlike"
4. Tile Flooring
Tile flooring is available in ceramic or porcelain and is a great choice for just about any area of the home.
Pros
Incredibly durable, fireproof
Stain resistant, low maintenance, requires only regular sweeping and occasional mopping
Individual tiles can be replaced if they are cracked or damaged
Suitable for any area of the home
Nonporous, highly resistant to moisture and temperature fluctuations
Cons
Very cold on bare feet
Heavy, may not be suitable for second-story applications
Very expensive to install, due to complexity of labor and installation
Grout may fail prematurely and need to be replaced
5. Vinyl Flooring
Vinyl flooring is 100% plastic, and it's very inexpensive. In addition, DIY installation is very easy, making this a very popular option for those who wish to save money on labor costs.
Pros
Totally waterproof
Simple to maintain, resistant to stains
Easy to install, with "plank-style" snap installation
Very inexpensive
Resistant to mold, mildew, and moisture
Available in hundreds of different colors, styles, and patterns
Cons
Usually lasts only 10-20 years
Some home buyers may not like how vinyl flooring looks
Sheet vinyl is hard to install
Thin, may require additional padding or under layers in living areas
6. Concrete Flooring
Concrete forms the subfloor of most homes. In recent days, more homeowners have chosen to simply remove their flooring, and bring out the natural beauty of their concrete floor. Concrete floors can be painted and stained, making them look just a gorgeous as any other floor.
Pros
Incredibly durable and stain resistant
Low-maintenance
Many options for surface treatments, paint, and colors
Lasts indefinitely with proper sealing
Versatile, and can be covered up with other flooring material at a later date
Cons
Requires waxing or sealing every 3-9 months
Improper sealing can cause moisture damage
Very hard and cold, some may find it uncomfortable
May crack if moisture levels are too high
Think About What Flooring Is Best For You!
This is hardly an exhaustive list of the most popular flooring options available, but it's a good place to start! The best advice from a home renovations in Winnipeg professional is to think about the pros and cons of each of these flooring types and choose the product that will be best for your needs.
The post The Pros and Cons of Common Types of Flooring appeared first on Home Business Magazine.
Source: Home Business
Republished by Blog Post Promoter