According to the proverbial saying, "Necessity is the Mother of Invention", need often encourages creative thinking in order to solve a problem at hand. An entrepreneur seeks to solve problems, not just work around them like most people in the world. There are generally alternatives that might be good enough, but not perfect. An entrepreneur has persistence and strives for perfection!
Mompreneur Kristen Wilson wanted the absolute best for her baby boy, George as do all new moms. Living in California, she understands the dangers of the harsh rays of the sun so she went on a search for cool and functional hats for her little guy. She found that adorable little girl hats were easy to find, but not the case when it came to rad hats for little guys.
Most moms would just compromise their desires and go with something easy to pick up from a local store or just order off the internet. Not Kristen. This motivated mom took this challenge and went to work. She made it her mission to create hats that kept her little guy George covered from the sun and elements all year with the highest quality fabrics and the perfect fit.
In 2014, she launched George Hats – blending quality, function, style, and comfort to create the perfect hat for little ones. Each hat is unique and made with love in sunny San Diego, California.

The manufacturing process has been carefully perfected so each hat is absolute top quality, stays put on little heads where they belong and is soft and comfy with the best fabrics available. These comfortable, light-weight truckers are nothing like the mass-produced alternatives. Infant Trucker Hats get a baby used to wearing hats practically from the day they are born (fits an average 1.5-month-old).
The Skin Cancer Foundation emphasizes that a baby who wears a hat during the first few months will get used to having it on. George Hats understands the importance of the getting kids comfortable with hats so they will not want to go outside without it.
The Sun Hats are fully lined with a breathable mesh, UPF 50+ protective fabric and UV protection using a soft & flexible brim. No more struggling with kids to force them to wear a hat for protection. Little ones cannot wait to put on their super cool hats.
According to the Center for Disease Control and Prevention, just a few serious sunburns can increase a child's risk of skin cancer later in life. Kids don't have to be at the pool, beach, or on vacation to get too much sun. Their skin needs protection from the sun's harmful ultraviolet (UV) rays whenever they're outdoors. Unprotected skin can be damaged by the sun's UV rays in as little as 15 minutes. Yet it can take up to 12 hours for skin to show the full effect of sun exposure.
Kristen not only focuses on sun protection but keeping little heads and ears warm in the cooler weather. Although heat is lost from any part of the body that comes in contact with a cold environment, the body part that is most often exposed to the elements during the winter is the poor defenseless head!
The Harvard Medical Clinic reports that we're not as thermostatically sensitive above the neck as we are below it. Blood vessels in the surface of the head constrict very little in response to cold, which is a good thing because the brain needs a steady supply of blood. There's little subcutaneous fat for insulation. As a result, even if the rest of your body is nicely wrapped up, if your head is uncovered you'll lose lots of body heat — potentially up to 50% of it — in certain cold-weather conditions. What's more, a cold head can trigger blood vessel constriction in the other parts of the body, so it can make your hands and feet feel cold even if you are wearing mittens and warm socks and shoes.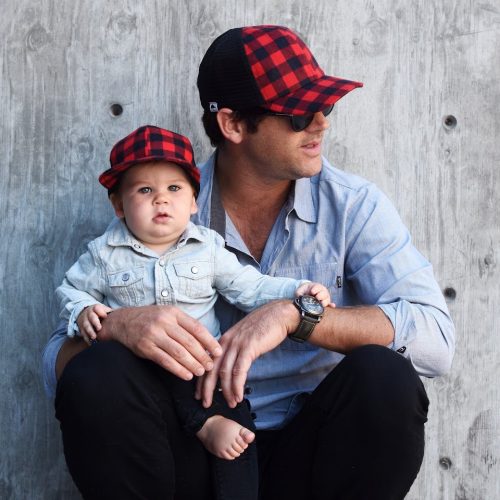 It is particularly important for children to keep their heads warm because they have an accelerated metabolic rate. Parents need to provide them with the layers of cotton and wool to insulate their bodies, so they do not use some of their potential "growth" energy to heat their bodies.
The Buffalo Pom Hat with Sherpa faux fur ears is perfect for those cooler days. Fabric is a soft warm flannel and kiddos are thrilled to wear these cozy creations.
Kristen constantly strives for fashion forward designs like the new visor beanie that will keep little heads toasty in chilly weather. Like most of her styles, they have matching adult versions so mom and dad or even grandpa and grandma can don this cozy and practical fashion accessory.
George-Hats has become a social media sensation with over 120,000 followers on Instagram. Her images are nothing short of sensational with absolute cuteness overload. Many of her images include George and his brother Leo who is one and a half years old. Although her business is thriving and busy, her main focus is family. "My boys are 1.5 and 3.5 and every age certainly brings its own difficulties and rewards! The saying boys will be boys could not be more true! But the most rewarding part is that my boys have each other, watching them play & their bond grow is everything!"
Mom and Dads around the country can thank Kristen Wilson for not taking mediocre as an option when it comes to the importance of the right hat for children in all seasons. She learned it wasn't impossible to get little kiddos to keep hats on their heads if they were lightweight and comfortable enough. As the kids get older, they want to look cool in fun and fashionable fabrics which keeps them grabbing their favorite George Hat from the other possibilities.
The post Mompreneur Kristen Wilson Launches Hat Line for Little Ones appeared first on Home Business Magazine.
Source: Home Business
Republished by Blog Post Promoter